WHY DO WE NEED TO BALANCE CORE ASSEMBLY?
Core Assembly is put together from components which are previously balanced on TURBO BALANCE machine using TURBO REVICON® balancing method. In the above mentioned procedure, it is necessary for shaft and wheel and the compressor wheel to be balanced to the tolerance level.
At the shaft and wheel, the balance is not affected by assembly into the cartridge, but at the compressor wheel, small errors in the wheel, the shaft, the thrust collar and the nose nut can cause an accumulation of balance error which could be several times higher than the recommended tolerance. Mounted on the engine, this can result in a noisy turbocharger and the journal bearing failure. This imbalance can be corrected by running the assembled cartridge at high speeds on a flexible suspension, measuring the vibration response on a full rotation velocity range (30.000-240.000 RPM) using Turbo Resonance Vibration Control – TURBO REVICON® which is original method developed by EVB company.
It is possible to achieve an acceptable imbalance level (recommended tolerance level) by changing the compressor wheel angle position relative to shaft and wheel and then removing (grinding) metal from the nose which fixes the compressor wheel. This balancing procedure can be perfectly executed on our core assembly balancing machine INTEGRALE RACING.
INTEGRALE RACING is developed and designed by EVB company engineers who have 30 years of experience in development and production of high precision balancing machines and devices such as Dental Balance – machine for balancing of dental turbine rotor whose tolerance is 40-50 times lower than turbocharger tolerances.
INTEGRALE RACING machine design is original and internationally protected, while machine construction, its components and programs are subject to international patents of the company EVB Elektronik Vibro Balans.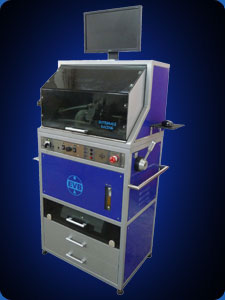 INTEGRALE RACING consists of the following systems:
Turbocharger - "mounted on the engine" simulation system
Compressed air drive system with manual command for commercial vehicle turbochargers (operating speed: 20.000-90.000 rpm) with universal starter.
Compressed air drive system with manual command for passenger vehicle turbochargers (operating speed: 30.000-240.000 rpm) with 24 starters for different sorts of turbochargers with a possibility of customizing additional starters by users.
Universal fixing tool for fixing of core assembly housing on vibrating table
Accelerometer fixed under the vibrating table and connected with measuring electronics for the vibration measurement (TURBO REVICON®)
Magnetic rotation velocity sensor for RPM measurement connected with electronics
Latest generation industrial PC and WindowsXP communicating with multi-channel measuring electronics via AD converters enables data reading (TVL diagram, turbocharger type, tolerance level, air pressure, oil pressure and temperature) and system-check by presentation of results on the TFT monitor with the integrated software "Process Guide" as the support for the operator.
Integrated printer for BALANCING CERTIFICATE printing. The certificates are automatically saved in the computer.
TBI - TRUCK-BUS-INDUSTRIAL TURBOCHARGER BALANCING (COMMERCIAL VEHICLES)
Turbocharger type and size: all types and sizes up to "Cursor 10"
Balancing speed: 20.000 – 90.000 rpm
Balancing accuracy (remaining imbalance): 0-10mg
HIGH SPEED TURBOCHARGER BALANCING (PASSENGER CARS)
Turbocharger types: Garrett, KKK, IHI, Mitsubishi, Toyota and others
Complete set of adapters and accessories for the most requested turbochargers
Balancing speed: 30.000 – 240.000 rpm
Balancing accuracy (remaining imbalance): 0-2mg
TECHNICAL CHARACTERISTICS:
Dimensions:
height 1900mm – width 900mm – depth 600mm
Weight:
150 kgs
Supply voltage:
220V - 50Hz single phase standard
Power:
1.500W
Air Supply:
recommended pressure 8-10 bars
Recommended compressor size:
600-900 l/min
Recommended air tank:
300-600 l
Air inlet hose connection:
1 inch diameter
OTHER CHARACTERISTICS:
Multi Language Matrix system enables translating the operating software into language of choice supported by WindowsXP
Balancing parameters and tolerances for over 1.500 different turbochargers stored in the system
EVB STANDARD – supporting operating program, very useful in the process of turbocharger repair and testing, which also enables balancing of turbochargers not originally stored in the system
Possibility of storing new turbocharger parameters
Possibility of printing balancing certificate for each balanced turbocharger
Auto-saving of balancing certificates
Illuminated operating cabin with transparent rotating cover
Cabin ergonomically located in front of the operator
Maximum operator comfort is reached by ergonomic design.
Integrated acoustic isolation
Manual air flow control
Attractive bi-color appearance, jewel of your workshop!
Gallery